POWER BRACELETS AND NECKLACES

Kudrat Kaur is now taking orders for beautiful custom-designed 'power bracelets' and necklaces. Watch for her many new custom design pictures to appear in the catalogue section.

Follow the ideas from the 'Create Your Own' section located on the front page of the website and make powerful healing-stone bracelets or necklaces, using stones of your choice. Bracelets can be made in one, two or three strands and prices will vary according to your own creation.

Contact the artist, Kudrat Kaur, for amazing ideas and photos of current designs and get creative about your own healing process. Let her guide you through the yogic technology about different stones and their placements on YOUR OWN personal custom designs.

I look forward to having a conversation with you soon!

Kudrat Kaur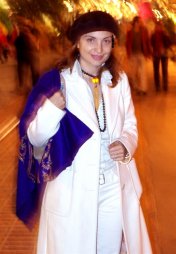 Actress Kaline Carr

creatively designed her

own necklace.